Ho hum, time marches on and Clear concentrate inches from cutting edge, toward the mundane, while the interest in THCa crystals rises.
One issue with crystals is how do you ingest them? They are in carboxylic acid form, so they don't readily pass the blood brain barrier, to reach the CB-1 receptors, when ingested orally, so vaporizing is appealing.
Pharmer Joe and I first shared his results by vaporizing, which worked if you heated the dabber so that the crystals would stick to it, but some always seem to fall between the supply and electric nail.
Another issue of course is how much the purified white crystals resembles cocaine, and some possible LEO hysteria scenarios should it be discovered in your possession, even with a valid medical marijuana license.
Hee, hee, hee, snicker, snark, snort………..! Enter Royal Jelly!
A mixture of Clear concentrate and purified THCa crystals, stirred, not shaken, and left to clarify overnight.
When first mixed, it becomes translucent, clarifying to a clear grainy honey color and consistency overnight, which is extremely smooth to dab, with an abundance of upper end, and doesn't fall off the dabber!
The extremely smooth to dab is because there are no mono or sesquiterpenes to induce expectoration, which can be important to some medical cannabis patients with COPD, such as myself.
Here are some dirty peectures showing the Clear, THCa crystals, and the end product when combined, of Royal Jelly!
Pharmer Joe pulled a sample of the second run from a short path distillation unit awaiting bleaching, to use as the base. We will follow up with more purdier peeectures, when the balance of that run comes back from bleaching, to demonstrate the effects of that process on "sqeezins" gleaned from the black fractions.
The light yellow THCa crystals have already been refined, and I used a 50/50% ratio with my first batch, and about a 70/30 mix this time. The more THCa, the stiffer the "Clear" becomes.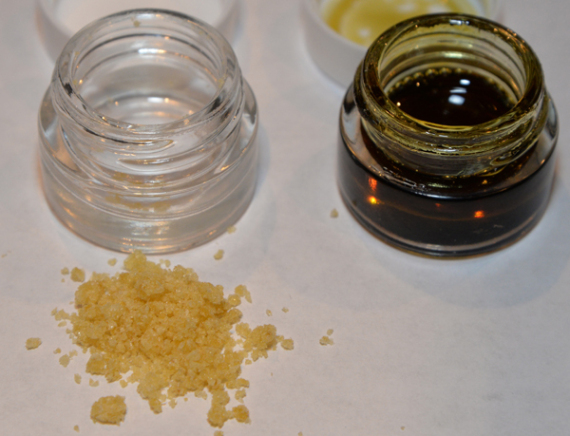 THCa Crystals and Unbleached Second Run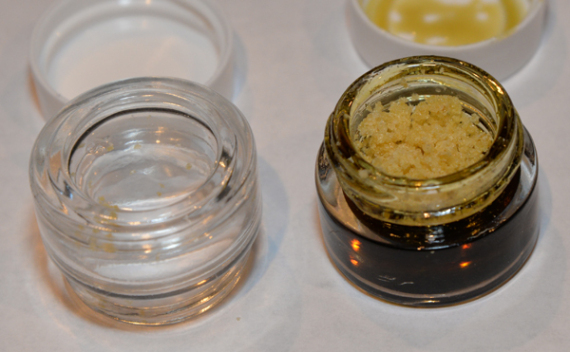 Down the Hatch! Components together.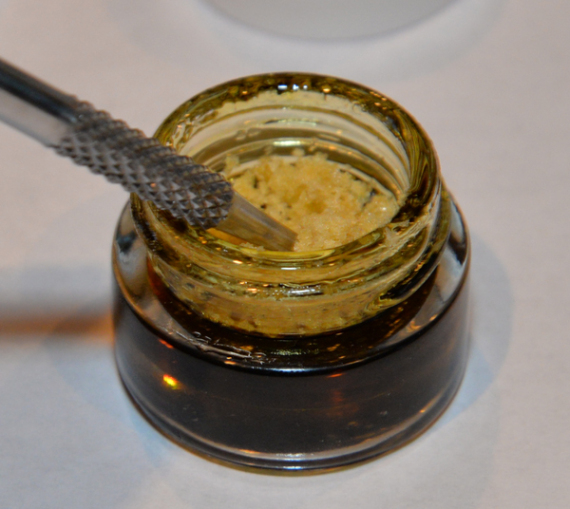 Stir Them Suckers!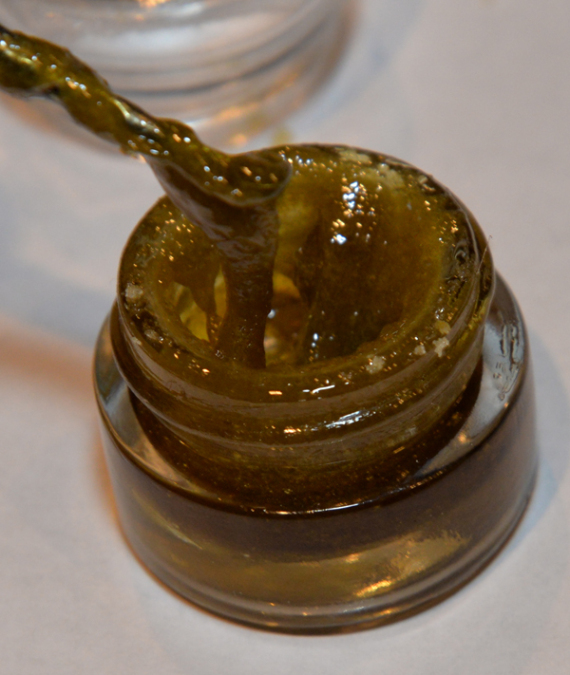 Makes a Semi Opaque Colloidal Mixture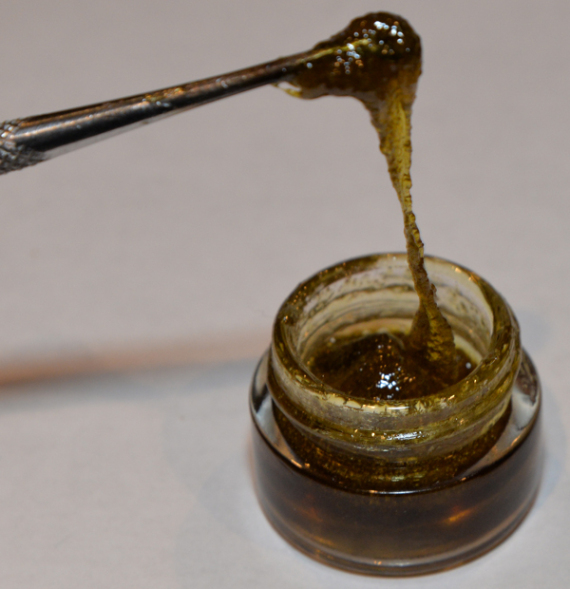 Clarified Grainy Mixture After Clarifying Overnight