Cold Traps
So how do you keep the solvents that you are cold boiling from your oil, out of your vacuum pumps crankcase, so that it doesn't overflow, or dilute the oil and wipe out the pump?
The answer is that you really can't, but you can reduce it significantly and recover much of the solvent for reuse, by using a cold trap.
What is a cold trap? A cold trap is a container, through which the vapors are drawn, and which condenses them back to a liquid, trapping them in the container and keeping them from reaching the vacuum pump.
They range in design and complexity, some using dry ice or liquid nitrogen, but we wanted one simple and cheap to operate, besides being affordable.
After experimentation with just a simple cold trap, and a simple cold trap with pre-cooler in front, I have a design which I am pursuing, which I feel will serve our needs. Copy of cad drawing attached:
It is based on a 6" X 12" stainless sanitary spool, with lids clamped on both ends and one lid modified to include five 3/8" couplings and a 1 1/2" center downsprew.
The 1 1/2" down tube is the inlet, that will reach within 1/4" of the bottom, and one of the 3/8" ports is the vapor port outlet to the pump.
The other four ports are the inlets and outlets of cooling coils, through which I will pump ice water or sub zero antifreeze from a freezer.
I will make an inner and outer layer of copper cooling coils, wrapped around the center downsprew, and put a diffuser at the bottom of the downsprew, so as to direct the bubbles.
As the chamber fills, the vapors are forced to bubble through the liquid present and the diffuser guides them between the double layer of cooling coils, as they make their way to the top of the liquid.
The cooling coils are copper, for the best heat transfer, and ice water or antifreeze can be circulated through them.
They can easily be taken below zero F, using a pump hooked to a tank of antifreeze, sitting in a chest freezer set on maximum cold, and even drop in dry ice, but any extreme cold, will require specialized pumps.
Here are pictures of my test sled using an original prototype butane tank for the Mk III, before I switched to a 50# tank for speed. It was a perfect design for either, as it was set up with both a dip tube (now a down sprew) and a vapor port.
For the test pre-cooler, I used a CPS refrigeration M-69 after cooler, which we purchased for their M-21 pump that we are testing on the automated Mk II Terpenator.
More as progress is made: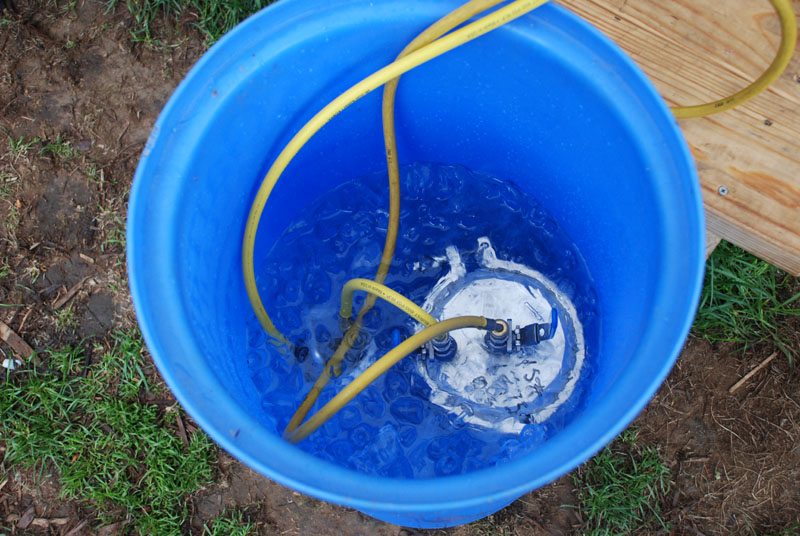 Trap in ice bath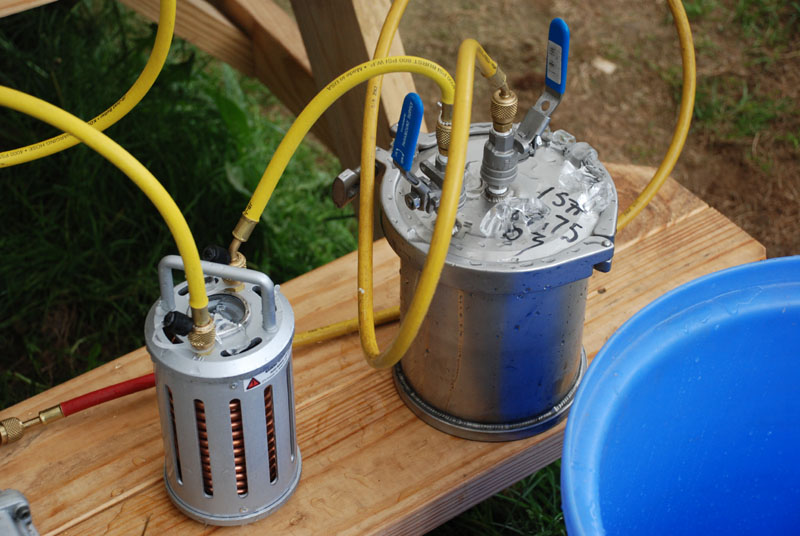 Cold trap with precooler
6-8-13
Hee, hee, hee, all designs start in heaven and no plan with very many details ever remains unchanged, leading us to the "as builts."
Regardless of what the first print, here is what I built and why.
I discovered two things as I assembled the parts for this puppy and the first is that it was over complicated by having two separate cooling coils, so I changed it to one and reduced the number of lid connections.
The second was that despite the utility of having the coils out of 3/8" copper, I was unsuccessful after four tries, to wrap the 3/8" condensing coil around a 1 1/2" mandrel without kinking it or freezing up the over coil coil I was using for bending.
I therefore went to 1/4" tubing, which increases my back pressure and now requires a higher pressure pump. One step at a time...........
Otherwise, the trap turned out well and awaits more pressure than the exiting 1/6 hp submersible affords. Now looking for a replacement............
Here are some pictures of the unit, and I replaced the lid layout print above to reflect three ports instead of five. You will notice that the bottom diffuser plate has also been replaced by a diffuser coil, made by making extra loops of copper tubing at the bottom of the first wrap, before continuing with the second layer coil wrap.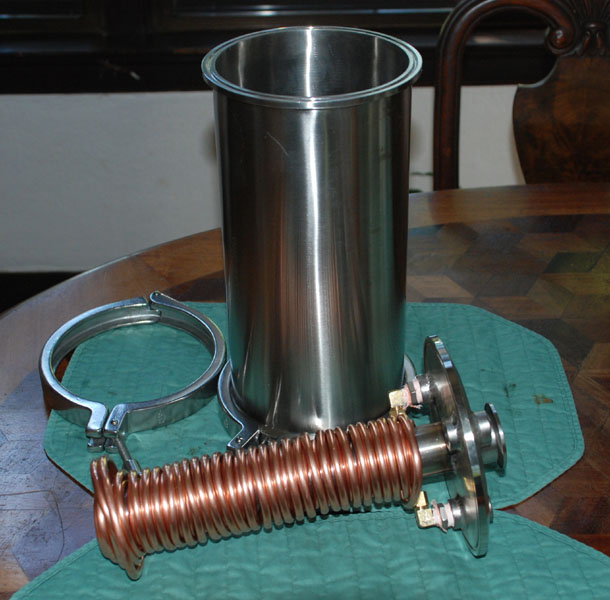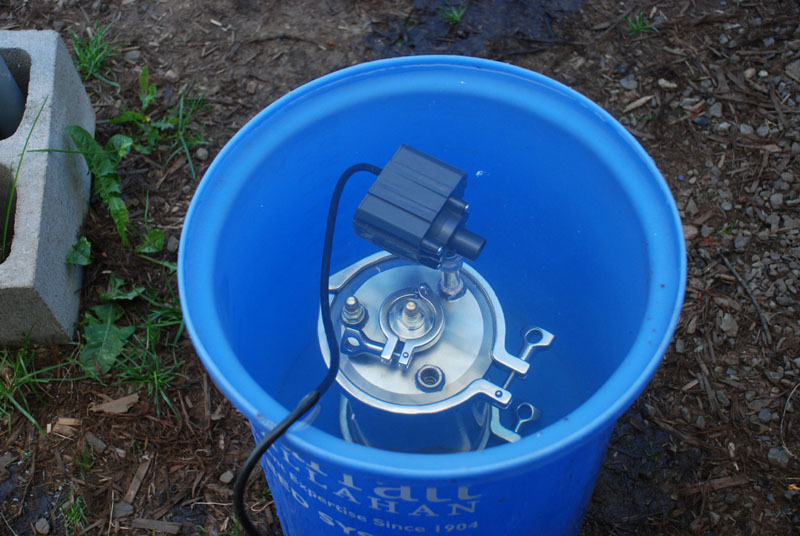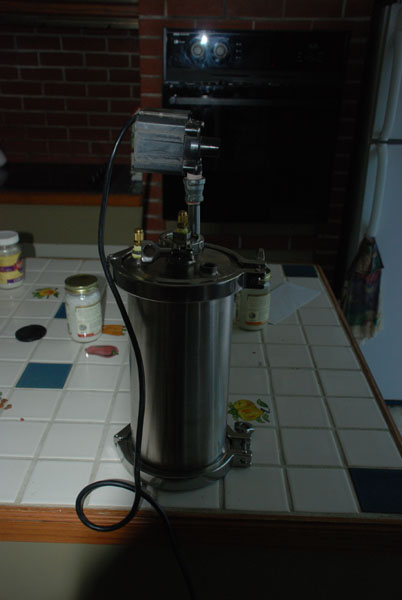 COLD TRAP COMPONENTS
| | | | | |
| --- | --- | --- | --- | --- |
| NO | Item | Req | Cost | Price |
| 1 | 6" Lid | 2 | $42 | $82 |
| 2 | 12" Downtube | 1/2 | $45 | $22.50 |
| 3 | 6" X 12" Column | 1 | $120 | $120 |
| 4 | 3/8" Union | 3 | $1.49 | $4.47 |
| 5 | 1 1/2" X 1/4" NPT Lid | 1 | $10.95 | $10.95 |
| 6 | 1/4" NPT X 1/4" flare fitting | 1 | $3 | $3 |
| 7 | 1 1/2" Triclamp | 1 | $5.90 | $5.90 |
| 8 | 6" Triclamp | 2 | $29 | $58 |
| 9 | 3/8X 1/4" bushing | 2 | $1.16 | $2.32 |
| 10 | 1/4" NPT X 1/4" Compression elbow | 2 | $2.83 | $5.66 |
| 11 | 1/4" Copper tubing | 1 roll | $37 | $37 |
| 12 | Machining | 1 lot | $50 | $50 |
| 13 | Welding | 1 | $30 | $30 |
| 14 | Total | | | $431.80 |