To perform some of the desirable alchemy with cannabis essential oils, requires some sort of vacuum chamber that you can control the heat and vacuum levels in, as well as see what you are doing.
These are readily available as vacuum desiccators and vacuum ovens, but all are pricey, so how about just building your own?
We already have a glass desiccator with a hot plate inside, and picked up a new used vacuum oven, but alas the temperature controls are ineffective in the low ranges that we operate, so we are in the process of refining its controls.
More on that subject on a separate thread, but this thread is to show how we punted when the vacuum oven capacity that we had counted on, eluded us, with meds to process backlogged.
To that end, we used an old 22 quart Mirror pressure cooker that was gifted to us, and after removing the gasket, we tossed the lid.
I then drilled a 1/4" pilot hole through the side wall wrapper, about 2.5" below the top flange, followed by a 3/4" bit, to enlarge the hole to fit a 1/4" NPT brass bulkhead fitting.
I then inserted the bulkhead fitting through the side wall from the inside out, installing a gasket on the inside flange, and tightening the nut and lock washer on the outside of the pot.
To this I added close nipples, a cross, with two 1/4" ball valves, and two 1/4" MPT to 1/4" flare refrigeration hose fitting. One for the vacuum pump and the other for the vacuum gauge hose.
As it is temporary, and we needed it immediately, we reused the existing gasket, and made a new lid out of a 1" X 16" acrylic plate. At -29.9" Hg gauge, there is about 1/16" lid deflection in the middle, so a thicker plate would be better to reduce high cyclic fatigue.
If it were permanent, we would have a new Viton gasket cut by Paramount, or Gaskets Unlimited and use 1 1/2" polycarbonate, for the lid.
Hee, hee, hee, after telling me that they didn't have any, and after having them cut the 1" acrylic plate, I found a 22" X 29" X 1 1/2" Polycarbonate remnant at Multi Craft Plastics, which I scored for $72. It has one 6" hole in one corner, but that is $2/lb for bullet proof polycarbonate panels, like those used at teller windows. Snicker, snark, snort, more projects to come!
Here are pictures showing how we made and how it turned out. We are able to easily control the temperature with an outside hotplate and reduce the pressure to -29.9 with one of our 6.2 cfm single stage AC vacuum pumps: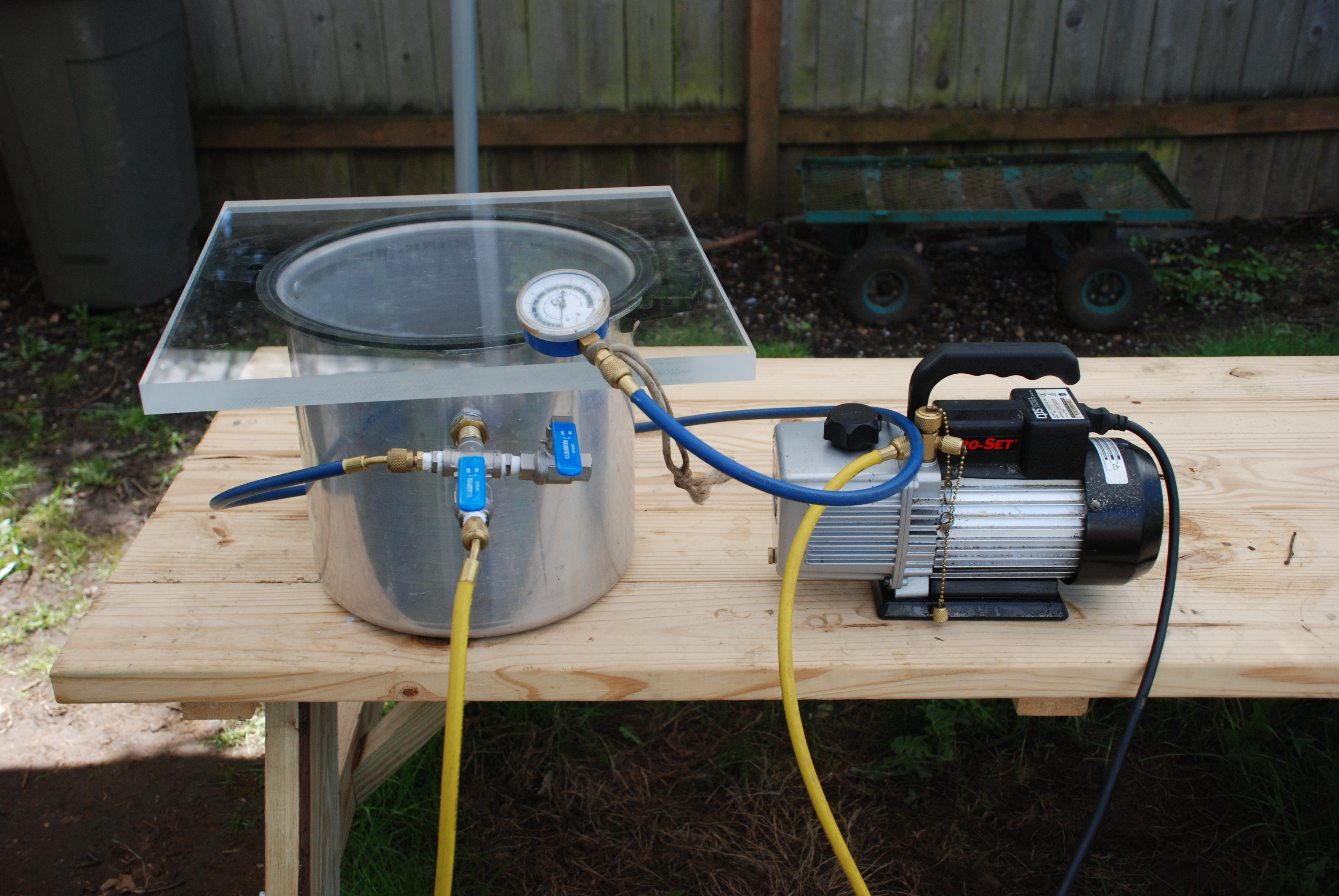 Vacuum chamber from pressure cooker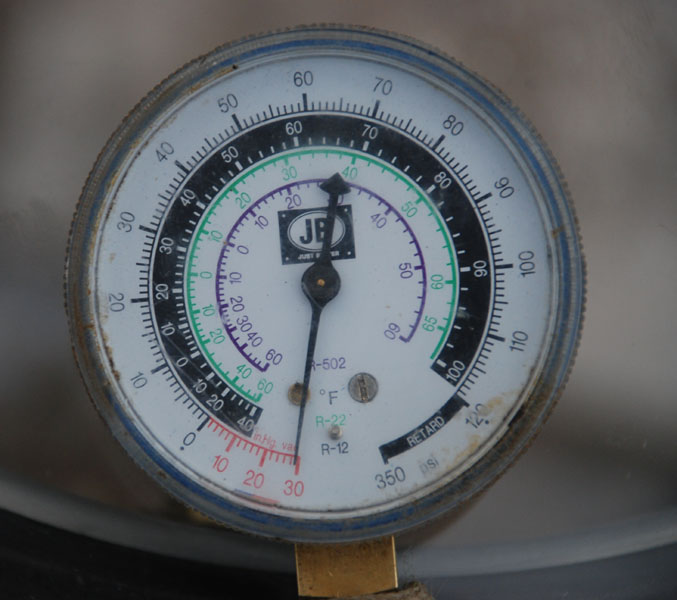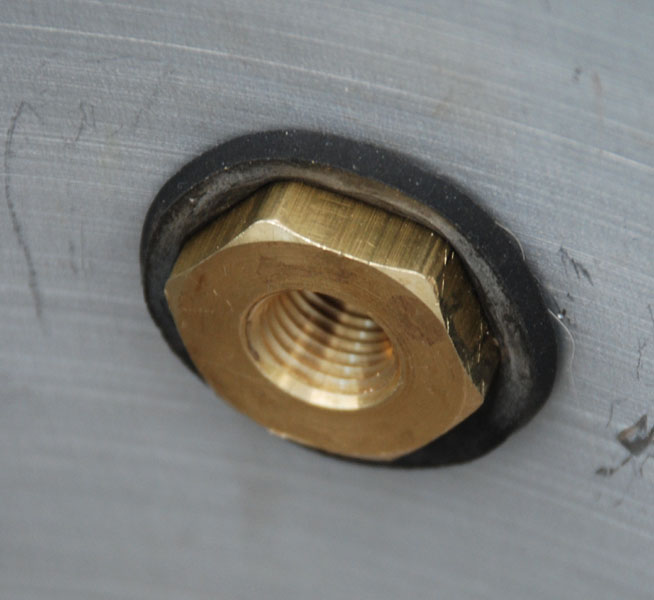 Soooo, how about heat in the 85/115F range, way below what most hot plates and griddles control at?
5-26-13
Wowza, speaking of DIY, look at what Steve whomped up out of acrylic panels! Looks purdy enough to use for a jewel display case and sturdy enough to last.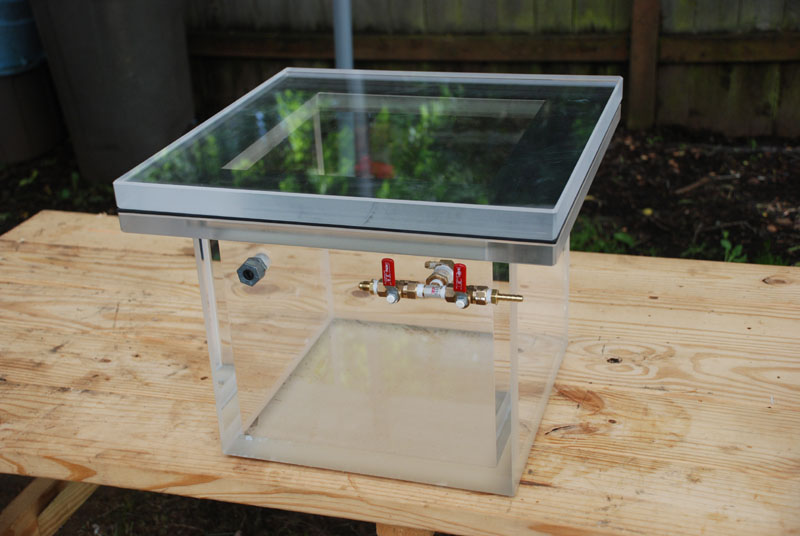 Steve's Vacuum chamber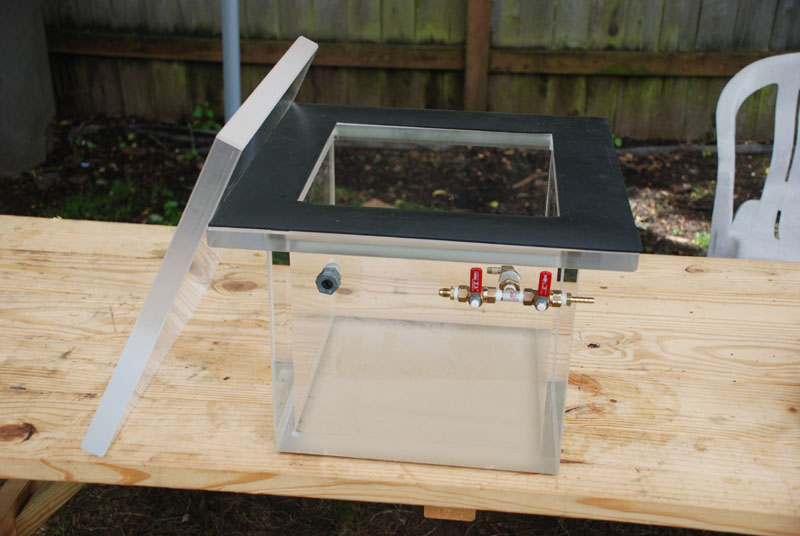 Steve's vacuum box and lid
__________________________________________________________________________
8-2-13
The question arose regarding the suitability of a 2" Polycarbonate plate lid on a 20" pot, so I thought that I would share the answer and the math with you:
In summary, it looks to me like a 2" Polycarbonate or a 2" Acrylic plate would work. Stress at the extreme fiber at 450 psi, is a small fraction of the 9,500 psi ultimate tensile strength.
Deflection would only be about .004", so high cyclic fatigue shouldn't be an issue.
Calculating stress at the extreme fiber and deflection of Polycarbonate vacuum chamber lids lids
The formulas for calculating stress at the extreme fiber and deflection for a simply supported flat circular plate from the Thirteenth addition of the Machinery Handbook are as follows:
1.0 Assume:
S= 0.39W
t2
d= 0.221 W R2
Et3
Where:
S = Stress at the extreme fiber
T= Ultimate Tensile of Polycarbonate =9,500 psi
p= Pressure in psi = 14.7 psia atmospheric pressure
W= Total load on plate= p X area = 4618 lbs
t= Plate thickness= 2"
d= Deflection
R= Radius of plate= 1/2Diameter = 10"
E= Modulus of elasticity = 375,000 psi
D= Diameter of pot= 20"
Mechanical properties taken from: http://www.boedeker.com/polyc_p.htm
2.0 Therefore:
d= 0.221 X 4618 lbs X 100 = .034" deflection on a 2" plate
375,000 psi X 8
s= 0.39 X 4618 lbs = 450 psi
4
8-13-13
Here are some more heat mat sources, compliments of Skyhighler, which have greater capabilities that the one above: