Until 2007 there were no published reports of highly successful methods for culturing Cannabis sativa. Hemp was successfully cultured in China but at a success rate of a mere 85%. Then Ole Miss published "Thidiazuron-induced high-frequency direct shoot organogenesis of Cannabis sativa L." in The Society for In Vitro Biology which detailed how they achieved a 95% success rate.
We found this paper and started making the medium. We were able to get great results with the vegetative propagation medium which utilizes hormones TDZ and gibbrellic acid. We used this medium to multiply and expand our library. The rooting medium calls for half strength MS salts and the exchange of hormones to only IBA and with the addition of activated charcoal. We had problems initially with the medium being watery after sterilization but we have since linked the issue to our gelling agent and have moved forward.
Synthetic seeds
During our research we also came across another paper published by Ole Miss on synthetic seeds. These same scientists were able to develop a formulation that consistently would regenerate 100% of these synthetic seeds under greenhouse conditions. Impressive statistics, but not an original or groundbreaking discovery; synthetic seeds have been around a while and are underutilized technology.
We have also been tooling around in our spare time with synthetic seeds and have some preliminary observations on their implementation.
Inconsistent size of capsule; we are looking into a suitable fluid distribution system that can produce a consistent volume in each droplet.
Irregular shapes; we have found in our research that a surfactant can be added to the hardening bath to break the surface tension, which prevents the droplet from being deformed by the impact.
Nonconforming product placement; getting the explant into the center of the droplet consistently has been an issue. We are trying different strategies with promising results so far.
Lead time; this is an obstacle because the incubation time before sowing is 30 days with 75% success rate and 60 days for 100% success rate. In order to be successful explants also need to have come from a specimen already in culture because some varieties don't take to culture. This could be the medium we are using or genetics we will know more in the future.
This technology has great promise if these obstacles are overcome. We are making headway with an automated capsule making machine design. We will keep you updated as this project progresses. Attached Photos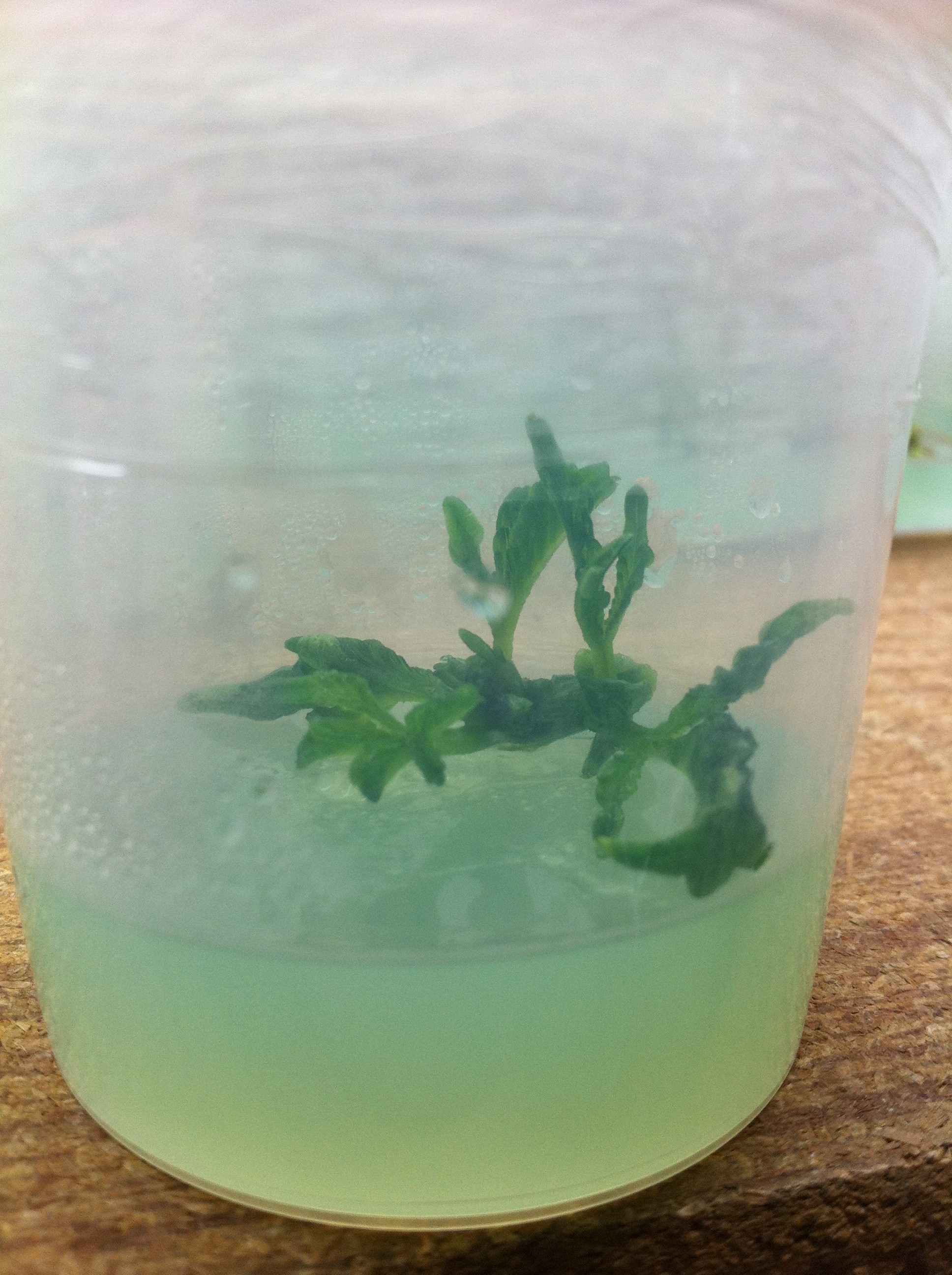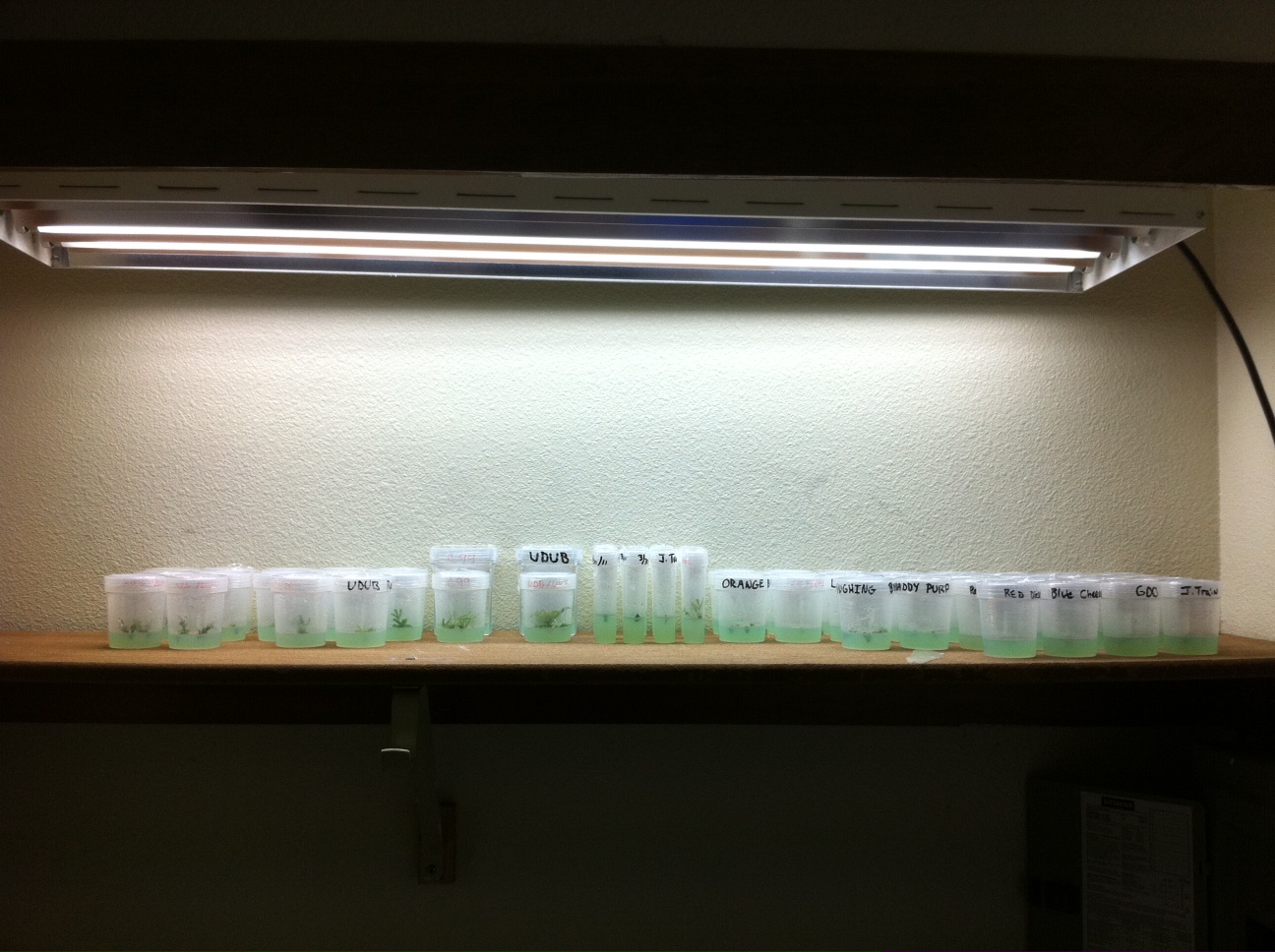 We now have the beginnings of a plant tissue culture lab and we are working on building back up our strain library. In the meantime check out the hand built laminar flow hood that I designed and built. It had to be built in the lab because there is no way it's getting through either door. It has a 4'W X 2'T X 2'D workspace. It is made from ¾" melamine board and has a 1200 cfm fan inside. Two high quality pre-filters and a HEPA final filter. I didn't take any construction pictures because it wasn't a pretty sight until it was finished. I got my HEPA filter from another pharmer for free and the rest it set me back around $500. The fan was $200 the Lumber around $150 I had to buy a brad nailer for $50 and the tempered glass top with the rounded edge was $80, then all the edge tape and ¾ round plastic to secure the glass, plus sealant's, caulk and such ate the rest. I will be getting some state paperwork finished up this week and will then start accepting donations of genetics for our reserve. All strains once established and multiplied will be shared free of charge with the local MMJ community. Once we finish the lab and have some more eye candy; we'll be sure to share.
Joe