Ever thought of using N-Hexane for extraction or alchemy? At the Skunk Pharm we use an HPLC reagent grade hexane, which we acquire from the local scientific supply store, for a number of things.
Like butane, hexane is a simple alkane, but it has two more carbon atoms and four more hydrogen's, which makes it completely insoluble in water. Pentane, with five carbons in the chain, is the first completely insoluble alkane.
It's longer chain gives it a higher specific gravity and higher boiling point than butane. Hexane boils at 69C/156.2F, versus -0.6C/30.9F for butane, which makes it more difficult to purge.
It can be purged under heat and vacuum using thin film techniques, or simply washed in ethanol, which boils at 78C/172.4F.
Our sensory perception threshold for hexane is 30ppm and OSHA TWA limits for breathing it 8 hours, is 500 ppm, so we can detect its gasoline like taste far below TLV.
Hexane is commonly used to produce pharmaceuticals and even food products, and is not Mother's Milk, but the point is moot, as it is not left in amounts that are toxic.
There is a difference between trace amounts and toxic doses, because poison is in the dosage. Even Oxygen is a toxin at over 75% atmosphere and you are just as dead as from an over dose of any substance.
So what are the facts about hexane? One is that if hexane is present at levels as low as 30ppm, it tastes exactly like gasoline.
Since concern starts at 250 ppm for chronic and nearly continuous exposure, our senses are adequate to protect us from exposure to toxic levels.
So lets see what the governing authorities think about it, while paying attention to how the dosage rates compare to levels less than 30 parts per millionth:
SECTION 11 – TOXICOLOGICAL INFORMATION
CAS# 110-54-3: MN9275000
LD50/LC50:
CAS# 110-54-3:
Draize test, rabbit, eye: 10 mg Mild;
Inhalation, mouse: LC50 = 150000 mg/m3/2H;
Inhalation, rat: LC50 = 48000 ppm/4H;
Inhalation, rat: LC50 = 627000 mg/m3/3M;
Oral, rat: LD50 = 25 gm/kg;
Carcinogenicity:
CAS# 110-54-3: Not listed by ACGIH, IARC, NTP, or CA Prop 65.
Epidemiology: Occupational polyneuropathy has resulted from hexane exposures as low as 500 ppm, but the minimum levels of n-hexane that are neurotoxic in humans haven't been established.
Nearly continuous exposure of animals at 250 ppm has caused neurotoxic effects.
Teratogenicity: No evidence of teratogenicity or embryotoxicity in anmial studies with hexane.
Fetotoxicity has been observed in the presence of maternal toxicity.
Reproductive Effects: Severe testicular damage has been observed in rats exposed to hexane at concentrations which have produced other significant toxicity.
Although sub-neuro toxic doses of its principle toxic metabolite, 2,5-hexanedione, can induce progressive testicular toxicity in rats, there have been no reports of human sterility or other reproductive toxicity associated with n-hexane exposures.
Mutagenicity: Positive results (chromosomal damage in the bone marrow cells) obtained for rats exposed by inhalation to n-hexane.
Neurotoxicity: n-Hexane is a mild irritant and CNS depressant in acute exposure, but its principal effects are damage to the sensory and motor peripheral nerves, particularly in chronic exposure.
Moving to ease of use, because of its insolubility in water, you can soak plant material in hexane without picking up water solubles. I have soaked as long as 12 hours.
Using hexane requires close attention to safety issues, as it is highly flammable and even lower explosive limits than butane when used in an unventilated area.
Hexane's lower explosive limits is 1.2% of atmosphere, and its upper explosive limits are 7.7, as compared to lower limits of 3.3% for ethanol and 1.8% for butane. Except for well ventilated lab conditions, hexane extraction and alchemy is best done outdoors, with a fan blowing away and dispersing the vapors as they are given off.
Pentane and Hexane are the components of light naphtha, or white gasoline, and should be treated with the same care and respect.
Needless to say that it is a no smoking or toking activity, so leave the lighter and smokes out of reach, lest you reach for them automatically.
Besides open flame, static sparks can ignite the fumes, so don't do hexane extractions wearing plastic clothes, especially on cold dry days.
Using glass wear to contain highly flammable liquids carries drop and splash dangers, which I am going to draw your attention to, but confess that I routinely use lab glass wear with flammables in it and that the hexane itself usually comes in a glass jug.
A stainless steel container for the soak portion of the process, could achieve the same effects however, without the same breakage danger.
Ambient temperature is important, and hexane has a relatively high vapor pressure of 151mm Hg @ 25C/77F, so it is important to keep the mixture relatively cool for long soaks or use a vented container to control pressure buildup.
We use hexane for both extraction and cannabis alchemy. Because it is relatively expensive, it is usually more cost effective to do the initial extraction with another less expensive solvent and use a lesser volume of hexane to polish it afterwards.
For extraction we simply fill a jar about 2/3rd full of material that we have broken up to about coarse rolling size, and fill the jar to the 3/4 level with hexane. We shake well, loosen the lid to release the pressure, seal it again, and set aside. We periodically repeat the shake and pressure relief steps, for up to 12 hours.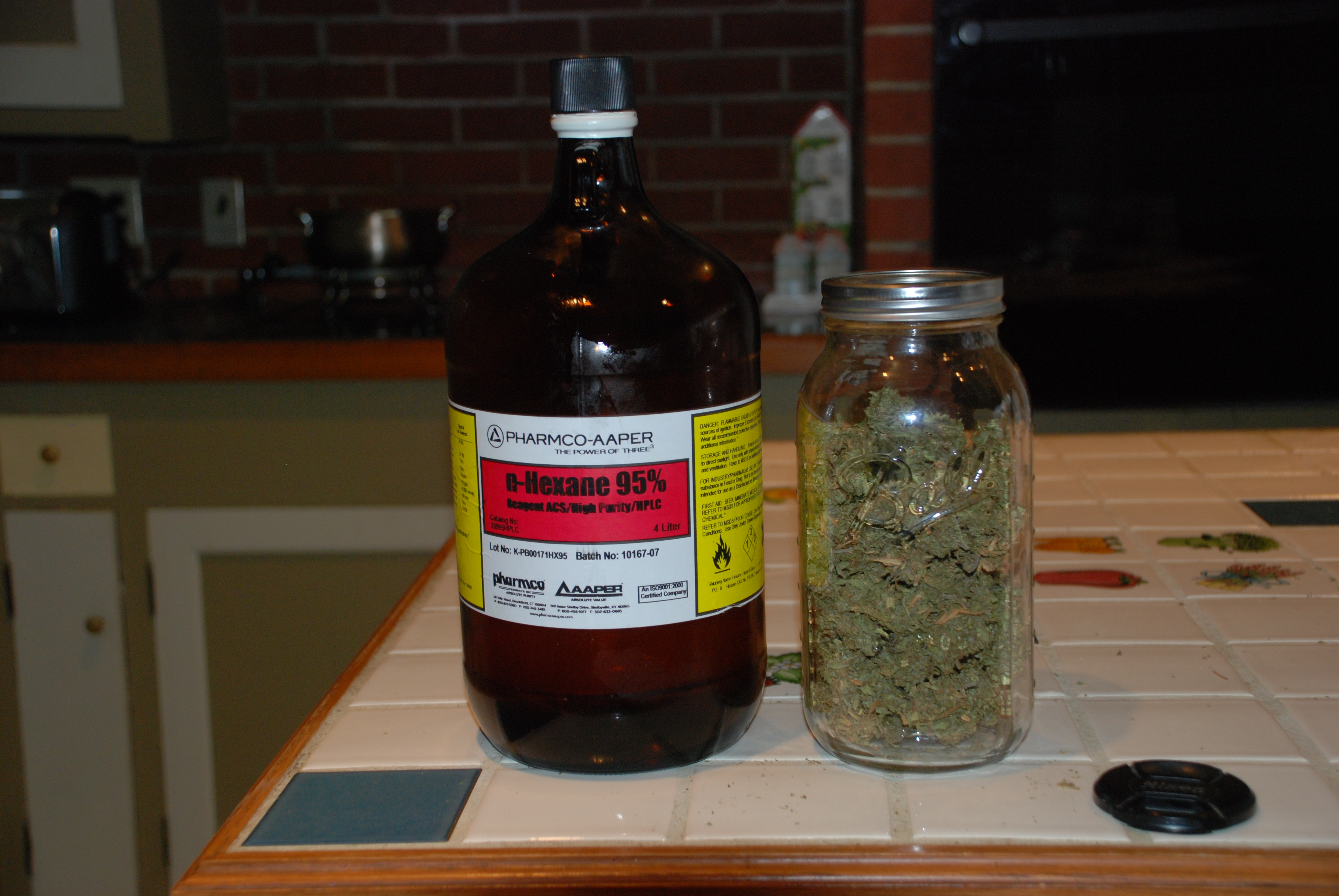 At the end of the soak, we pour the mixture in a strainer, and press the material to force as much hexane out of the plant material as possible. We then filter through a coffee filter or vacuum filter using a Wattman # 1.
You can do the initial purge of the hexane by simply setting it aside in a pie plate to evaporate, and can speed that up by setting the pie plate in hot water and blowing air over it, if you aren't in a dusty setting.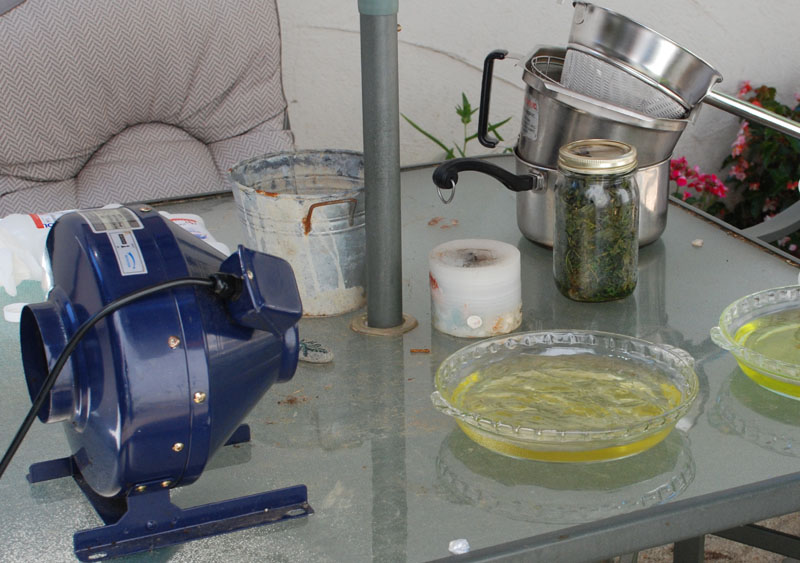 You can also boil off the hexane in a double boiler, with either hot water or hot oil as the medium in the pot, and can speed that up with vacuum. See attached pictures of thin film vacuum purging, as well as a ghetto rig in a fruit jar:
That brings us back to final purge, and as I noted above, if you don't have vacuum equipment, final purging can also be done by washing in ethanol. Washing is done by re-dissolving the raw HHO in ethanol and boiling the ethanol off. The higher boiling point of the ethanol and the scrubbing action of the alcohol molecules boiling off, will take the remaining hexane molecules with it, while keeping the process temperature below 173F.
Re-dissolving in ethanol also allows the interim step of winterizing, by which you place the ethanol HHO mixture in the freezer for a couple of days until the waxes coagulate and can be filtered out, before evaporating away the alcohol.
While it can be used for extractions, where hexane really shines, is cannabis alchemy. For instance, you can extract the cannabinoids with ISO, Methanol, or Denatured alcohol and after reducing the volume of the alcohol through evaporation, when it reaches a convenient and economical handling volume, mix it with equal parts of hexane and super saturated salt water.
If you agitate that and place it in a separatory funnel to separate, the hexane will rise to the top with the cannabinoids and the water and alcohol mixture will sink to the bottom, where they can be bled off. See picture of separatory funnel, and check out our page on polishing extracts for more details.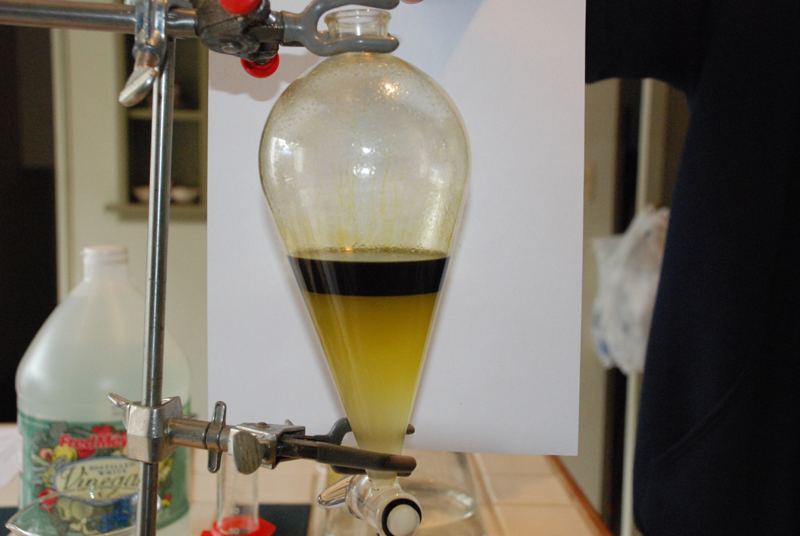 Lastly, we use hexane to isomerize or make cannabis acetate. That involves reflux boiling the hexane cannabis oil mixture in sulfuric acid, or acetic anhydride.
More on that in Joe's Cannabis Acetate thread.