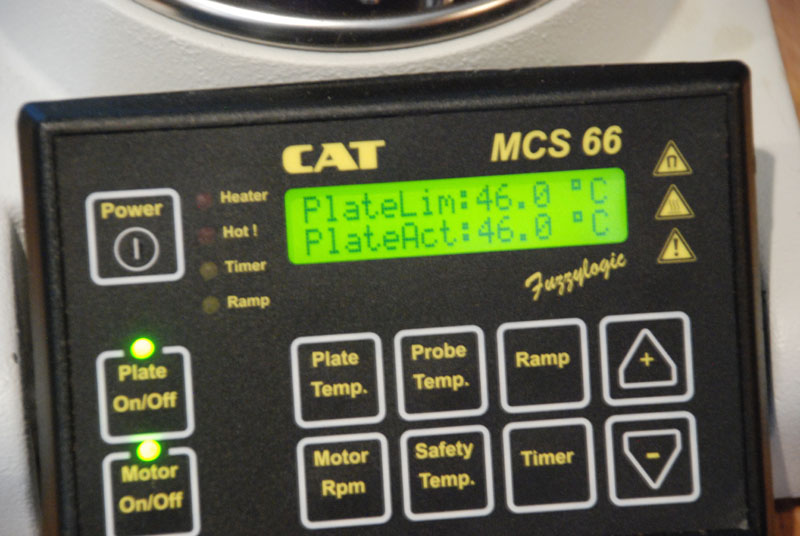 For ya'll brothers and sisters doing serious extraction and alchemy requiring a stirring hotplate, heads up, cause we've been testing a CAT MCS 66 that bears your attention and investigation.
We use a stirring hot plate for various things and have gotten by using our aging Thermolyne, but have never been able to maintain accurate even heating in the low ranges between 18C/85F and 46C/115F, so it requires constant monitoring.
We've tested the CAT MCS 66 in a variety of different applications, both in the lower ranges, as well as above 100C/212F, and it adds new meaning to the word steady.
For instance, it kept a solution at 46.C for two days without ever flickering to 45.9 or 46.1C.
Wanna talk about stirring ability? How about spinning a stir bar in cold vegetable glycerin through a stainless steel bain marie container? Hee, hee, hee..............
Check out this vortex with water at less than half throttle........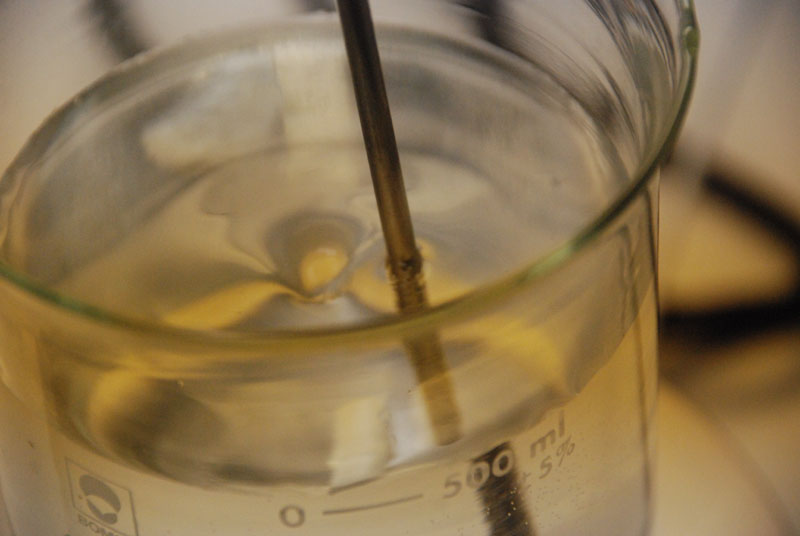 Those of ya'll who like to play with buttons, will love the digital LCD display, and array of membrane button choices. Besides individual on/off buttons for overall power, there are individual controls for the plate power and the stirring motor. There are two up down buttons, and selection buttons for setting plate temperature, stirring motor rpm, container volume, how fast a ramp up, timer, upper limits, and monitoring the temperature of an emersion thermocouple that plugs in to the base.
The thermocouple monitors the actual temperature of your solution, separate from monitoring set point and hot plate surface temperature. With water, at 36C set point, the hot plate held steady at precisely 36C, and the 500 ml of water came up to and stabilized at a rock steady 28.5C.
The probe is available with a couple of holders, one which was damn clever, but light weight enough that ole fumble paws there found it easy to inadvertently destroy, as well as the heavy duty one that they replaced it with the second time around. I really like the new clamp, in that it is not only too heavy duty for me to wipe out, but it opens wide enough to hold test tubes. Hee, hee, hee.......................
Verifying the reported temperatures with our infra red laser thermometers uniformly resulted in the same temperature or within 0.1 of the same reading, so we are pretty pleased with the accuracy as well.
Thanks to CAT Scientific at http://www.catscientific.com/ for the loan of this piece of equipment for trials and a salute for a good job that impressed us!