Ever asked yourself exactly what are the Alkanes, Alcohols, and Ethers commonly used for cannabis extraction and alchemy made of? Fortunately, one doesn't have to be an Organic Chemist to understand them, as they are all simple single bonded chains of carbon, hydrogen, and sometimes oxygen. It is not until we get into the Alkanes, that we have double bonds and aromatic rings to keep track of.
Organic Chemistry classes are but a faint memory, but here is simple minded recollection of how the Simple Alkanway of understanding them.
The carbon atom is capable of bonding with four other atoms, some of which can be double bonds to other carbon atoms.
The hydrogen atom is capable of bonding with only one other atom and the oxygen atom is capable of two bonds.
Simple Alkanes:
The Simple Alkanes contain only carbon and hydrogen atoms and start with the shortest carbon chain of one carbon atom, with four hydrogen atoms bonded to it, which is Methane.
--H
HCH = Methane = CH4
--H
Note that the - marks are space holders for letter alignment, not bonds.
As the first four Simple Alkanes don't follow the Greek alphabet, as do Pentane and longer chain Alkanes, I use the mnemonic device, "Mary Eats Peanut Butter", to remember them.
It is also easy to keep track of the chemical formula for the Simple Alkanes, because there will always be twice as many hydrogen atoms as carbon atoms, plus the two on the ends of the chains.
The second Simple Alkane is Ethane, with two carbons and six hydrogen's.
--HH
HCCH = Ethane = C2H6
--HH
Next we have Propane, with three carbons and eight hydrogen's.
--HHH
HCCCH = Propane = C3H8
--HHH
Followed by Butane, with four carbons and ten hydrogen's.
--HHHH
HCCCCH = Butane = C4H10
--HHHH
At this point, we move to the Greek alphabet with Pentane, which has five carbons and 12 hydrogen's, to Hexane with six carbons and 12 hydrogen's, and Heptane with seven carbons. There are longer chain Simple Alkanes, but they are typically not used for extraction.
Due to Vander Waal forces, as the chains get longer, their boiling points go up, as does the difficulty in purging out their residuals afterwards. Here is the general relationship of chain length to boiling points: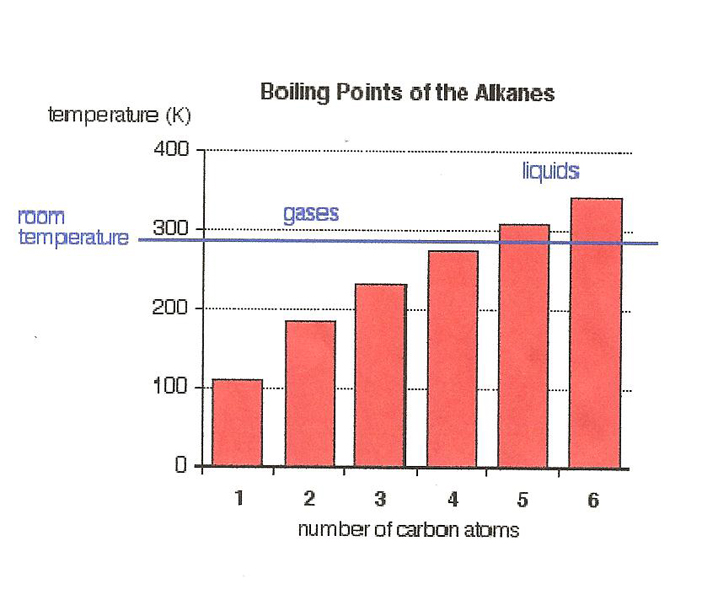 The Simple Alkanes are non-polar solvents, and mostly insoluble in water. Butane is the last of the Simple Alkanes that is still considered slightly water soluble, at .000325 vol/vol, or about 3.2 ml/liter.
Simple Alkanes do a good job of avoiding the polar elements, but does still extract waxes, fats, and lipids, that are non active ingredients adding to the bulk and harshness. This is easily removed by winterizing the raw oleoresin extract using a polar solvent and freezing temperatures to coagulate them, so that they can be filtered out. See page on polishing extracts for details.
The Simple Alkanes are also relatively non-toxic, with some even used in food processing. Their presence is also easily detectable by taste and smell at levels far below Threshold Limit Values, so they are a good choice for extraction. See attached MSDS sheets for details.
Simple Alkane Alcohols:
While the Simple Alkanes may be simple and dull, not so once an oxygen atom enters the picture. Depending on its location in the Simple Alkane molecule, it turns the simple hydrocarbon chain into an alcohol or an ether.
For instance Methanol, or wood alcohol, is based on the Methane molecule, with an oxygen atom bonded to one end of the chain, between the carbon and the last hydrogen.
--H
HCH = Methane = CH4
--H
--H
HCOH = Methanol =CH4O
--H
Ethanol, or grain alcohol, is based on the Ethane molecule with the oxygen located on one end, same as the Methanol.
--HH
HCCH = Ethane = C2H6
--HH
--HH
HCCOH = Ethanol =C2H6O
--HH
Propanol, or the more familiar isomer Isopropyl alcohol, is based on Propane, but the oxygen is in a different location in the isomer.
--HHH
HCCCH = Propane = C3H8
--HHH
--HHH
HCCCOH = Propanol = C3H8O
--HHH
--HHH
HCCCH = Isopropyl Alcohol =C3H8O (isomer of propanol)
--HOH
Butyl Alcohol is based on the Butane molecule, but in addition to an alcohol, it may also be present in an isomer, that is an ether, because of the oxygen atoms location.
--HHHH
HCCCCH = Butane = C4H10
--HHHH
--HHHH
HCCCCOH = Butyl Alcohol= C4H10O
--HHHH
--HH=HH
HCCOCCH = Diethyl ether = C4H10O
--HH=HH
Notice that even though it is based on butane, it is called Diethyl? That is because the oxygen atom splits the butane chain in half, which puts an ethyl chain on either side, and Di stands for two.
Of the above alcohols, Methanol, Ethanol, and Isopropyl are commonly used for polar extractions. The alcohols are more toxic than the Simple Alkanes that they are based on, but still mildly so in the minute quantities that may be present as residual solvent.
Methanol is converted into formic acid and formaldehyde by our bodies, which attack the central nervous system, particularly the optic system, which is where the stories of going blind came from.
Isopropyl similarly attacks the auditory system in sufficient concentration, so post purging is more of an issue with Methanol and Isopropyl alcohols, than with Ethanol. Not that Ethanol isn't toxic, it just takes more of it and it doesn't attack our optical or auditory systems.
The thing to keep in perspective with any substance, is that the poison is in the dosage. Higher than 75% highly salubrious and wholesome oxygen in the atmosphere will kill us dead. Everything falls into that category, it just takes more of some than others and some have other issues, like being a carcinogen or a teratogen (birth defects).
The following are the MSDS Sheets for the above chemicals, which I always advise you to check for the specific manufacturer of your solvent, because they are not always the same across the industry.
Methane Methane MSDS
Methanol Methanol MSDS
Ethane Ethane MSDS
Ethanol Ethanol MSDS
Propane Propane MSDS
Isopropyl Isopropyl MSDS
Butane N-Butane MSDS
Butyl alcohol Butyl alcohol MSDS
Diethyl ether Diethylether MSDS
Hexane N-Hexane MSDS
Heptane N-Heptane MSDS
Good MSDS source: http://www.airgas.com/content/msds.aspx