Anna and Alzheimer's
A dog's dignified demise using cannabis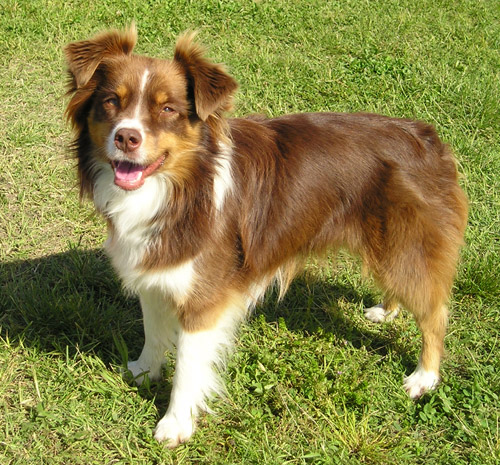 In the spring of 2008 I received a call from my friend and an Australian Shepherd breeder and trainer. He had just returned from the vet with oldest (13 yrs) bitch Anna, and sadly the diagnosis was Alzheimer's.
The classic symptoms included:
1. Incontinence.
2. Inability to find her way out of a corner.
3. Loss of desire to go for walks.
4. Loss of desire to socialize with the other four dogs.
The vet's Aricept prescription was expensive and had only diminishing benefits, so he called me; the most knowledgeable person he knew on alternative methods of treatment for the disease.
I am not a doctor, but am primary care giver for my Stage 7 Alzheimer's mother using cannabis therapy, which was Richard's primary area of interest. He is also the breeder from whom I got my current 12 year old red Aussie Maggie, an accomplished lover and one of the greatest joys in my life.
I had previously supplied him with my sedative July 4th cannabis formulation for noise sensitive dogs, and he was more than pleased with its effectiveness, while being more gentle and less discombobulating than the alternatives.
I shared my insight into the medical benefits of coconut oil, cinnamon, and cannabis for Alzheimer's with him, and formulated a more dilute version of our Holy Shit version for Anna to try, which I dubbed Holy Puppy Oil.
He began dosing Anna in daily meals with the amazing results that follow:
1. Anna regained control of her bladder, although they diapered her at night and no longer allowed her to sleep on their bed.
2. She no longer got lost in corners.
3. She regained her excitement for daily walks, even occasionally begging for extended lengths.
4. She resumed her rightful pack position, and both her bossy matriarchal and playful attitude toward the other dogs returned.
In the fall of that year I received a call from my friend telling me that the previous night Anna had problems breathing and did not want to climb the stairs to their room. So he made a bed for himself on the floor curled up with her, his first of many Auzzies.
He held her in his arms while they slept together, and in that peaceful closeness with her human friend, Anna slipped away peacefully.
Cannabis didn't save sweet Anna from death, but it provided her with another six months of quality life and a kinder closure for both her and her best friend.
For further documentation of our use of cannabis with Alzheimer's, see:
By Eloquentsolution
Image credit: Elf, CC BY-SA 3.0, https://commons.wikimedia.org/w/index.php?curid=1998062