Stems are also blessed with trichomes, though not as many as on the buds and leaves, and they tend to be more mature than those elsewhere, thereby producing a sedative extract.
Stem oil isn't all that tasty vaporized, and has little head effect, but makes a good oral sleep med and a stellar topical.
Unfortunately, the low yield from stems makes it the most expensive of the oils to extract, so we are looking at alternative methods. Here are some of the methods that we've tried:
Grinding and Hammer Mill:
We first tried to grind the stems, and discovered that blenders and food processors are short lived chopping up the tough fibrous stems, so after wrecking several other grain, spice, and meat grinders, we settled on an electric McCullough garden chipper, and a grain hammer mill from Romania.
Even the garden chipper requires periodic tear down and cleaning, as the fibers bind it up too. The hammer mill, on the other hand, performs flawlessly, albeit is slow because of the hand feeding a stick at a time. Pre-shredding it with the lawn chipper, followed by passing it through the hammer mill, produced the best production rate.
We then sieved the pulverized stem material through a 3/8" mesh screen, and extracted both the fines and the retained material, to see what the total oil potential was, vis a vis what we could get out of just the fines.
The extraction tests showed that there was very little oil left in the retained fibers, so we set them aside for a paper making experiment. One of the greatest surprises was how super soft cannabis fibers are after being pounded in a hammer mill.
We extracted the fines using both BHO and Denatured alcohol extraction, and yielded a good amount of oil from all the stems we processed, but it was super labor intensive and we are all basically lazy to the bone, so we looked further.
One of the things that we discovered, was that processing the larger stems was a super low oil producer, because the surface area as a percent of overall mass was low, and the goodies that we seek are all on the surface in trichomes.
Shown here also, are some pictures of our root extraction experiment run concurrently, and on which we will report on separately.
We winterized this extraction and the small bottle with sediment shows the fallout after about a month in the freezer, before we finished the experiment:
Last picture is Holy Annointing Oil Topical: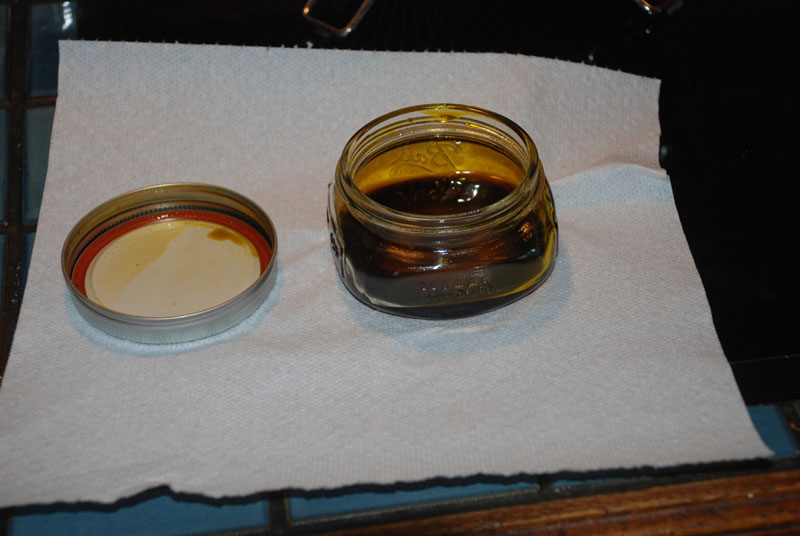 Magic Tea Ball:
Changing our strategy to accomodate that new found insight, we decided to make tea. We now simply place the smaller sticks and stems, as is, in a large 10" wire mesh tea ball, and dip them in a bucket of denatured alcohol, until they run clear. I found the ball at Hongs Restaurant Supply, in Portland. I don't remember the cost, but it was relatively inexpensive.
This works slick, as we don't have to do any shredding and can pick up denatured alcohol at about $10 gal in 5 gallon lots, or $5 gal in 55 gallon lots.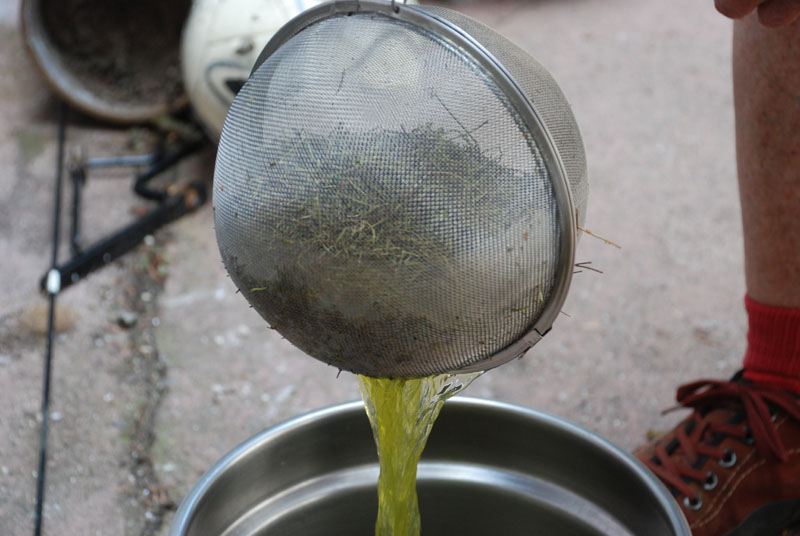 How About Sand?
Still looking for an easier way, we decided to try tumbling stems in clean fractured sand, and then extracting the sand. We picked up a bag of fractured sand labeled as washed, and trust me when I tell you that they aren't the same thing.
Washed or not, it had dust in it, so we only ran enough sticks to prove the process, and will return to it with clean sand and a larger tumbler, so we don't have to cut up the stems so small. A small cement mixer might be perfect.
As you can see, the yield on this brief experiment was low, but so was the quantity of stems that we ran to just prove that this would work. We will update this, as progress is made.