Ever wonder how much kif your favorite song would produce if it was shaking a dry siever? Hee, hee, hee, here is our quest to find out.
First you have to understand that part of the skunk pharmers little game amongst ourselves, as mostly retired technocrats, is to build everything possible from scrap in one of our treasure piles.
I had previously picked up some 1 1/2 X 3/4 X 96" finger jointed mahogany for $0.99 a stick, while shopping for sieve frame materials, and had grabbed all they had at that price, and I built the acoustical siever frame from what was left over. I also had pickled up a sheet of cheeeep, badly curled 1/8" mahogany plywood, for $2.
Our first experiment was to mount a 10 woofer to a diaphragm, and use the movement of the diaphragm to bounce a sieving tray. I took the sub woofer out of a Maranz stereo base reflex speaker, that I purchased used for $15 in 1967, and had stored in my haunted attic since about 1980.
Bob supplied a 100 Watt amplifier that he built himself in the 80's and had replaced with several generations since.
Alas, sieving action with taped music was unimpressive, so we hooked a signal generator up to our custom built 100 watt PSI amplifier, to get an idea what frequencies worked the best.
To our dismay, with the wooden harmonic test sled design, 30 Hz produced the best sieving action, which sounds like a slow buzzer.
Hooray! School is out! Ummmm, back to the drawing board with our new knowledge.
Not discouraged, after running across a Resin Reaper, we changed our thinking on design, and built the Grinning Reaper test sled to try out the concept.
The Grinning Reaper works on the principle of vibrating the top plate riding on the frozen trim, instead of vibrating the lower screen. I furnished the design and the 130 micron stainless screen and retired nuclear welder Roger built our test sled from his scrap pile, including the palm sander, which had a broken paper holder.
It worked amazingly well, producing about a 10% yield of clean trichomes in 3 to 5 minutes. Well now, that is more like it, but it isn't music!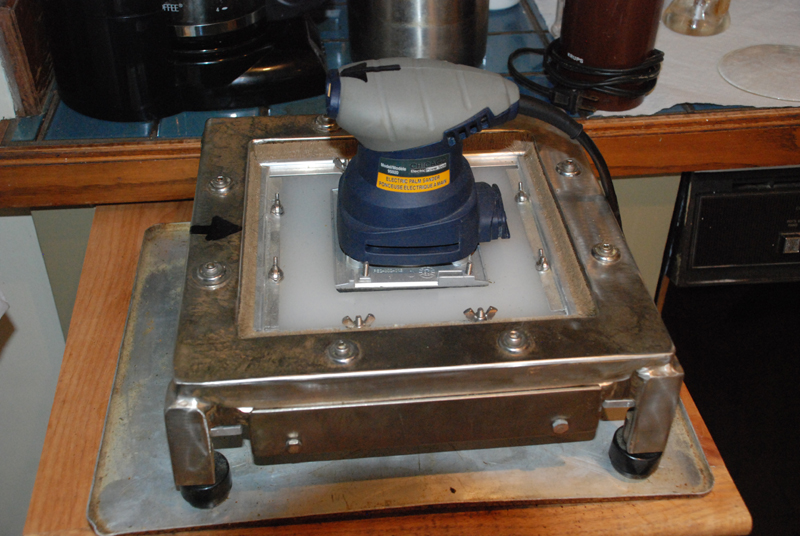 Well while not music, that worked so slick that we decided to see if shaking it ultrasonically would improve the performance, so I picked up an 80W ultrasonic transducer off E-bay, and Bob picked up a used 80 watt Sony amplifier in an estate sale for $45 and bridged it to put out 160 watts out on a single channel.
He also built the electronic driver for the transducer, but as no instructions came with the Chinese transducer, we had to search for the right frequency using a signal generator. Indeed we found it and were rewarded by a brief shriek, which sadly was the death rattle of our new toy.
Alas, we were unaware that ultrasonic transducers commit seppuku in milliseconds, if powered up without being bolted to something to absorb the energy and heat. The good news is that we now know that one more thing about working with ultrasonic transducers and being thus enlightened, I picked up another transducer off E-bay.
As I couldn't find another 80W on E-Bay, I picked up a 60W unit, in a package that gave the frequency as 28KHz and included the driver and power supply. Primarily because the transducers are expensive and I wanted no doubt about us burning out another one as apart of our learning curve. The cost was also not that much more than I paid for the first 80W transducer.
My original plan was to bolt the transducer directly to the top plate of the Grinning Reaper test sled, but as nylon doesn't dissipate heat well, I first mounted it to a 1/4" 6063-T6 aluminum plate from my haunted garage scrap pile and bolted that to the nylon top plate.
It was indeed a thing of beauty to behold, as it sat humming in regal splendor, but to my discredit it was underpowered by an order of magnitude.
Oh well, we not only learned something, but we now have the equipment for some ultrasonic purging experiments, to try ultrasonic droplet generation for making synthetic seeds, and for infusing the wild huckleberry and cherry flavors into liquor, that Eloquentsolution uses in her truffles.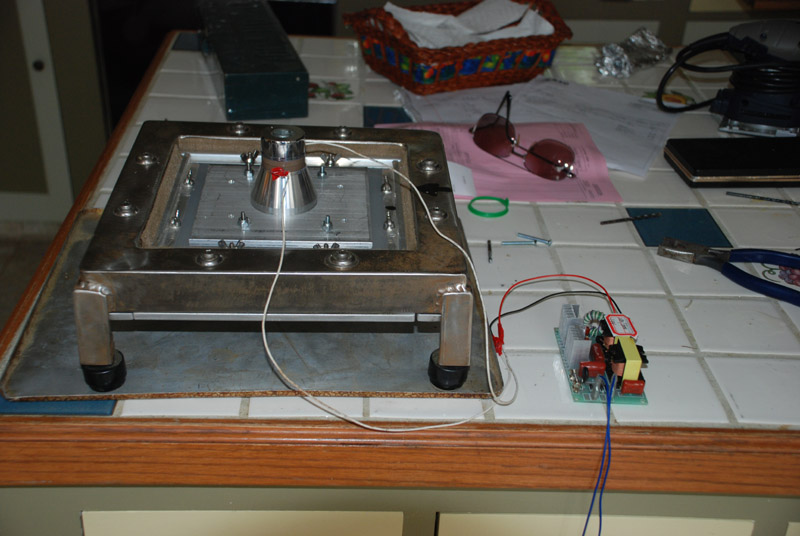 Well back to acoustics! Hee, hee, hee, we still covet sieving to music without a buzzer in the background, and for being such a good boy, fortuitous fortune smiled upon me, by placing a 50W acoustical seat shaker in my path for under $50! Stay tuned as this project unfolds......................................
GW